Memory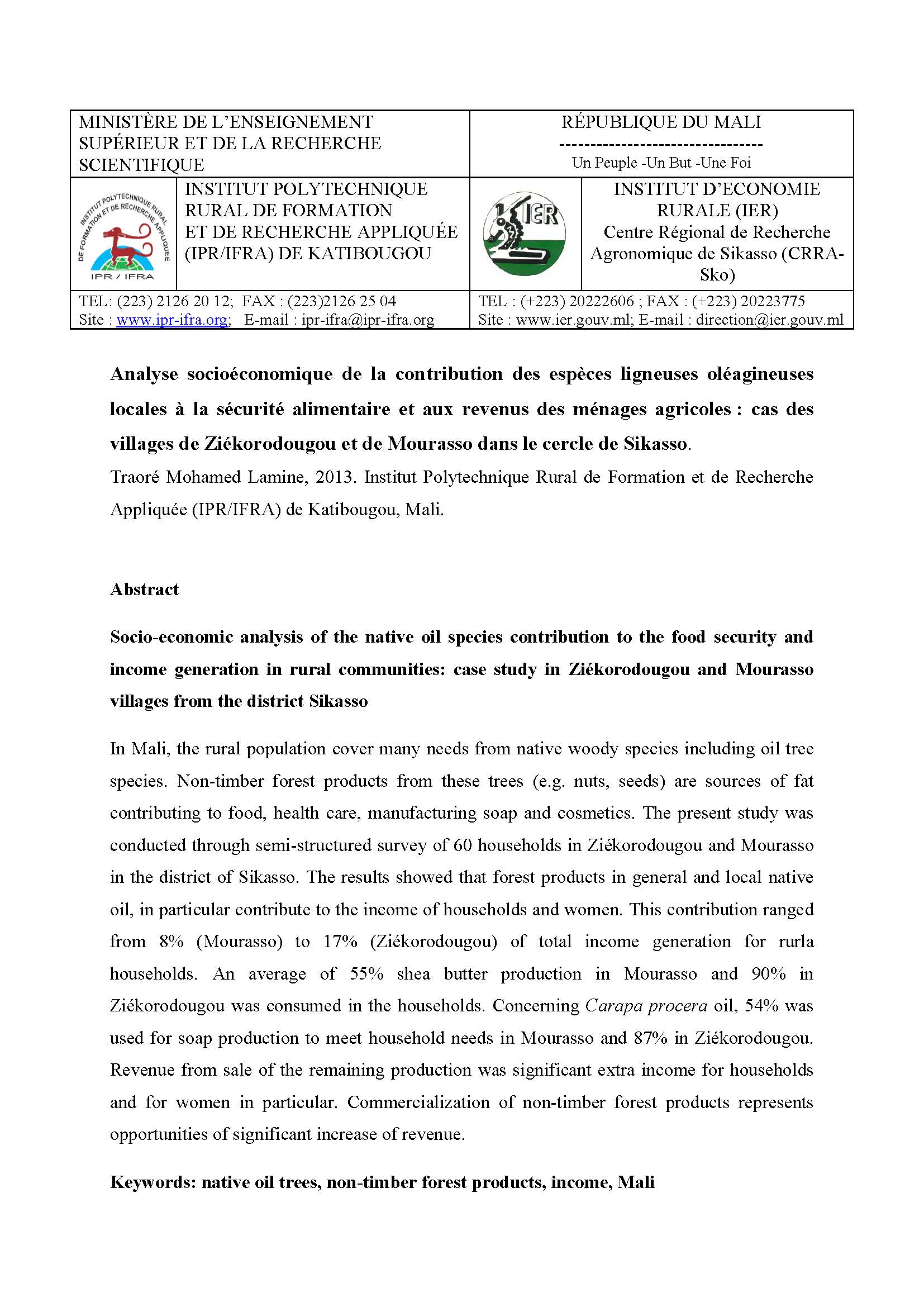 MINISTÈRE DE L'ENSEIGNEMENT SUPÉRIEUR ET DE LA RECHERCHE SCIENTIFIQUE

RÉPUBLIQUE DU MALI

---------------------------------

Un Peuple -Un But -Une Foi

INSTITUT POLYTECHNIQUE RURAL DE FORMATION

ET DE RECHERCHE APPLIQUÉE (IPR/IFRA) DE KATIBOUGOU

INSTITUT D'ECONOMIE RURALE (IER)

Centre Régional de Recherche Agronomique de Sikasso (CRRA-Sko)

TEL: (223) 2126 20 12;  FAX : (223)2126 25 04

Site : www.ipr-ifra.org;   E-mail : ipr-ifra@ipr-ifra.org

TEL : (+223) 20222606 ; FAX : (+223) 20223775

Site : www.ier.gouv.ml; E-mail : direction@ier.gouv.ml
Analyse socioéconomique de la contribution des espèces ligneuses oléagineuses locales à la sécurité alimentaire et aux revenus des ménages agricoles : cas des villages de Ziékorodougou et de Mourasso dans le cercle de Sikasso.
Traoré Mohamed Lamine, 2013.
Institut Polytechnique Rural de Formation et de Recherche Appliquée (IPR/IFRA) de Katibougou, Mali.
Abstract
Socio-economic analysis of the native oil species contribution to the food security and income generation in rural communities: case study in Ziékorodougou and Mourasso villages from the district Sikasso
In Mali, the rural population cover many needs from native woody species including oil tree species. Non-timber forest products from these trees (e.g. nuts, seeds) are sources of fat contributing to food, health care, manufacturing soap and cosmetics. The present study was conducted through semi-structured survey of 60 households in Ziékorodougou and Mourasso in the district of Sikasso. The results showed that forest products in general and local native oil, in particular contribute to the income of households and women. This contribution ranged from 8% (Mourasso) to 17% (Ziékorodougou) of total income generation for rurla households. An average of 55% shea butter production in Mourasso and 90% in Ziékorodougou was consumed in the households. Concerning Carapa procera oil, 54% was used for soap production to meet household needs in Mourasso and 87% in Ziékorodougou. Revenue from sale of the remaining production was significant extra income for households and for women in particular. Commercialization of non-timber forest products represents opportunities of significant increase of revenue.
Keywords: native oil trees, non-timber forest products, income, Mali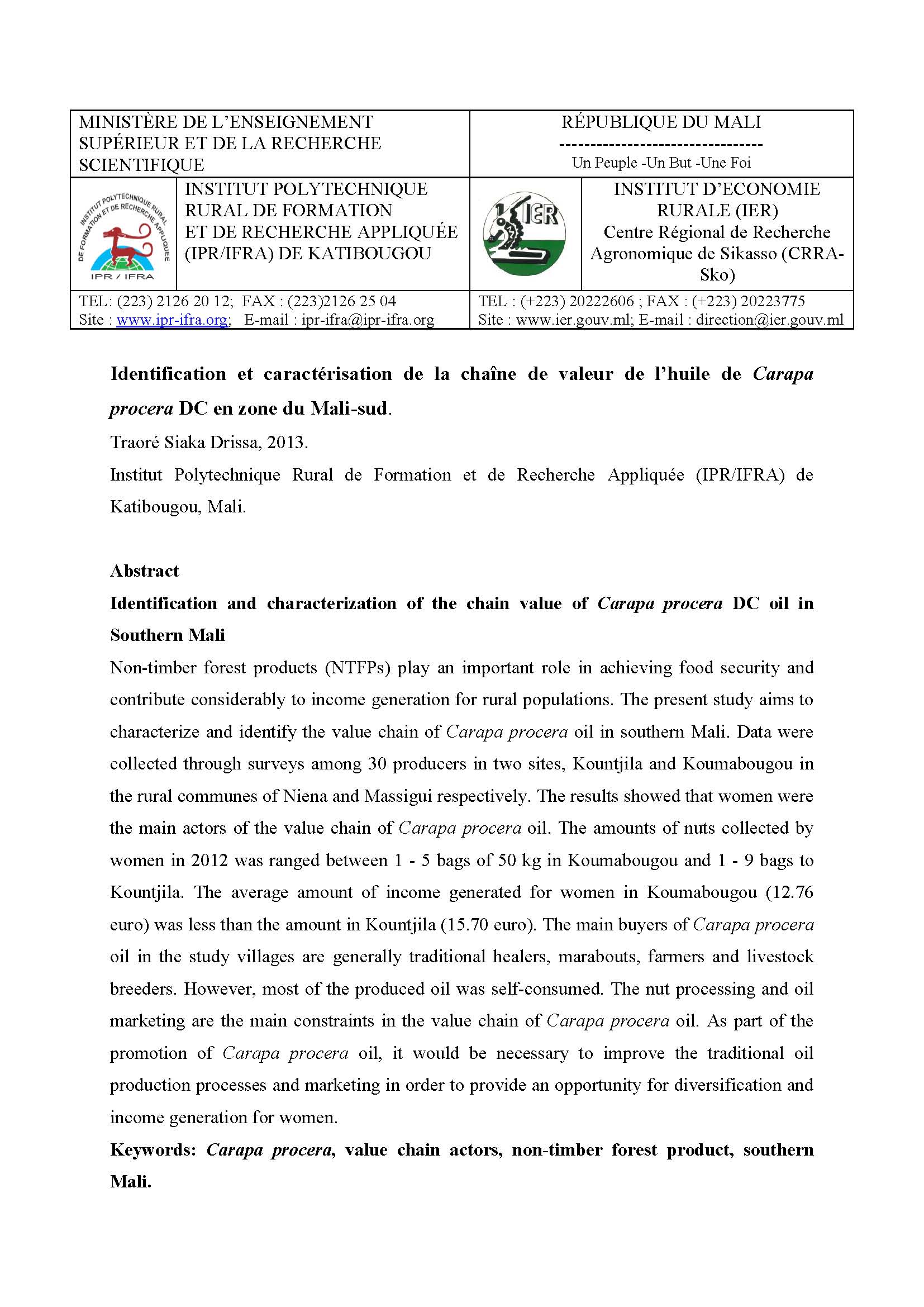 QualiTree
works to improve sustainable use of local tree species for fair-trade production of oils for food and cosmetics in Mali and Burkina Faso through a collaboration between researchers, private industries and local communities.

Financed by Danida.